Logic puzzles, funny riddlers and brain teasers with answers
Brain teasers for kids. Simple and funny.
Logic riddles and mind puzzles for everyone.
Very hard brain teasers. For real geeks only!
Random puzzle: Sheep
If we tie a sheep to one peg it eats out a circle in grass. If we put a rope through a ring on its neck and tie both ends of the rope to two pegs it eats out an ellipse. If we want an oval we tighten one rope between two pegs put a ring with a rope on it and tie the sheep to its other end.
How to tie a sheep so that it eats out a square in grass? We have one sheep ropes pegs and rings.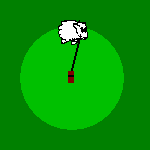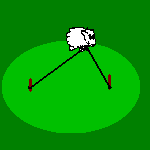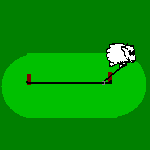 Puzzle categories
Carefully selected logic riddles and mind puzzles. Test your brain.
Math riddles and brain teasers with numbers. This math is not boring!
Visual brain teasers and picture riddles
Can you attack problems from other angles and solve these
... if you are mathematician:)